PRP treatment in hair loss
The PRP treatment is a therapy for hair loss that involves withdrawing a patient's own blood, processing it so that only the enriched cells (platelet-rich plasma) remains, and injecting it into the scalp. Using this treatment during a hair transplant operation accelerates wound healing and hair growth.
Thanks to the PRP treatment, red dots and crusting that occur after the operation disappear very quickly and transplanted hair starts to grow faster. PRP therapy is therefore a great treatment both for men and women who are battling hair-loss and thinning. Among its benefits are increase in hair density, decrease of shedding of hairs and reversal of miniaturization. At Clinicana, the best hair transplant clinic in Turkey, we provide our patients with this therapy.
What is PRP?

Platelet Rich plasma (PRP) is concentrated blood plasma, which contains approximately three to five times the number of platelets found in normal circulating blood. Moreover, it contains platelet derived growth factor (PDGF), vascular endothelial growth factor (VEGF), transforming growth factor (TGF) and other bioactive proteins that aid in wound healing and possibly hair growth, also stopping the dihydrotestosterone hormone (DHT) responsible for hair loss.
The PRP treatment is a new technique now available in the field of hair restoration. It´s a non-surgical alternative solution that helps in the battle with hair-loss and thinning; it can be performed either in conjunction during a hair transplant procedure, or as a stand-alone treatment which produces an increased hair density and takes only about 45 minutes.
Thanks to the PRP therapy, thrombocyte-rich plasma repairs the scalp generating a better blood build-up in the area and stimulating the formation of new small veins. In this way, transplanted and existing hair enriches in minerals, vitamins and especially keratin, reducing the possibility of shedding of transplanted hair and providing a strong, voluminous, thicker and long-lasting hair.
PRP is also used during the hair transplant itself. There is a certain amount of time passing from extracting hair follicles from the donor area until transferring to the recipient area, and it is very important to ensure that hair follicles survive during this time. Therefore, they are kept in special solutions with added PRP –also hair follicles can directly be washed with PRP solution- to preserve the follicles and stimulate its growing.
How is PRP treatment performed?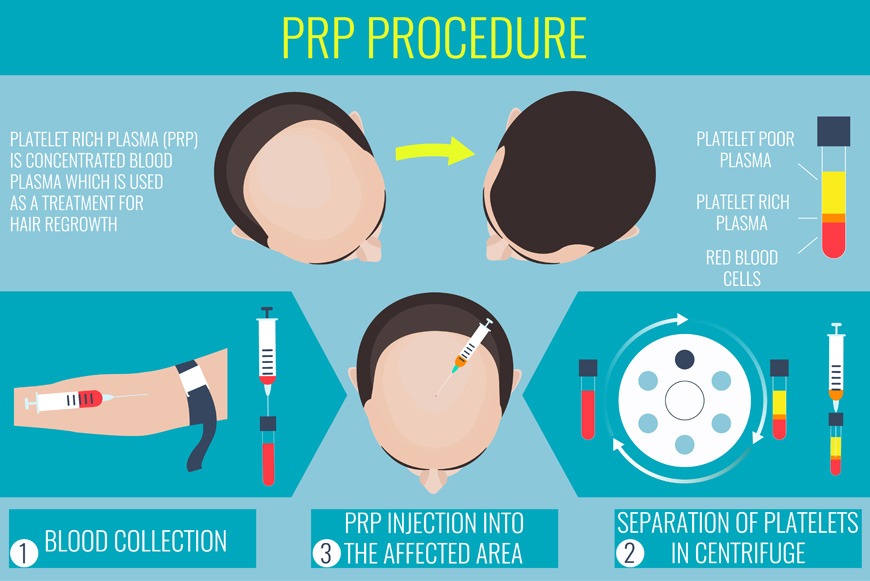 The entire procedure on average takes around 45 minutes to an hour, and it is a non-invasive method. We are now able to increase 5 times the growth factors, which naturally are found in the patient's blood, spinning the whole blood in a centrifuge. It´s recommended to schedule a second session 6 to 8 weeks after the initial session.
The treatment plan includes drawing up a small amount of blood, which later is spun in a centrifuge for 14 minutes. Meanwhile the scalp is disinfected, a topical numbing cream is applied and then a derma-roller is used.
Once the platelets and growth factors are separated, then a very small-sized needle is used (similar in size to a Botox™ needle) to inject the growth factors into the thinning areas of the scalp.
There is no possibility of an allergic reaction or infection in PRP treatment, as it uses the patient´s own blood. In fact it can be described as a person's blood donation to himself. However, the effect of PRP can be observed differently in each patient.
Things to do before the Platelet Rich Plasma therapy
There are some minor preparations before you receive a Platelet Rich Plasma (PRP) treatment. Please follow this instructions before your procedure:
Prior to your treatment
Please inform your doctor in case you are taking any blood thinner, as it may represent a contraindication to this treatment. These medications include Plavix, Coumadin and Heparin.
You may use Tylenol / Paracetamol (acetaminophen) as needed prior to the treatment.
If you are taking broad beta-blockers such as Inderal (Propranolol), please contact your doctor as this medication may need to be changed to a specific beta-blocker in advance of the treatment.
If possible, please refrain from -or minimize- smoking three days prior to and one day after the treatment. Smoking may affect healing and oxygen delivery to the scalp; therefore, your results may be improved the longer you are able to stop smoking before and after the treatment.
Prescription medications -including heart and blood pressure medication- should be taken as prescribed right up to, and including, the day of and the day after your treatments.
Minimize alcoholic consumption the day prior to your PRP treatment.
The morning of your intervention
Have a shower the morning of your treatment and wash your hair very thoroughly using your regular shampoo. Do not apply sprays, gels, or any other styling products to your hair. If you wear a hair prothesis, please remove it prior to shampooing and do not wear it before your PRP treatments.
Please eat regularly the morning of your treatment and drink approximately ½ liter of water at least 2 hours prior to your treatment.
Sedation is NOT required for PRP treatments. However, if you prefer, you may receive sedatives during the procedure. As these can make you drowsy, you cannot drive yourself.
FAQs about PRP
Q: How does PRP work?
A: We use PRP to stimulate the growth of follicles, thereby reversing the hair miniaturization (thinning hair) seen in androgenic alopecia (common baldness).
Q: What are the benefits of treatment with PRP?
A: Platelet Rich Plasma offers an additional way to stimulate hair growth, especially in people who cannot use other forms of treatment. For example, it may be useful if someone is not a candidate for a hair transplant, or cannot use finasteride. It is also useful in the treatment of crown thinning, where a hair transplant may not be appropriate.
Q: What is the treatment schedule?
A: If PRP hair loss therapy is appropriate, we can begin your treatment at the time of your consultation. We will administer the next two treatments at 6 weeks intervals. You will be asked to return 3 months later. If you show improvement, follow up treatments will be given twice yearly depending upon your progress.
Q: When should I expect to see the results?
A: Usually patients see results in 3 to 6 months. However, the response time may be variable.
Q: How long does PRP treatment take?
A: It's done during a simple visit to our clinic, in about 30-45 minutes time.
Q: Can I go back to my regular routine after the treatment?
A: Yes.
Q: Will it work on a balding area?
A: It works best where there is existing thinning hair.
Q: How well does this treatment work?
A: Platelet Rich Plasma treatment is relatively new, but there is substantial anecdotal evidence that it is useful. We will be monitoring your progress with serial photographs to assess the results.
Q: Will it work for me?
A: There is an individualized response to this treatment with a spectrum of effectiveness. It does not work in all cases. Patients are monitored to assess the benefits of therapy.
Q: Is the treatment used in both men and women?
A: Yes
Q: How much blood is drawn in a typical PRP treatment?
A: The amount may vary for each patient depending on the extent of the hair loss, but the standard amount is 50 ccs.
Q: Will my head be sore afterwards?
A: You may have some very temporary soreness and swelling, but many patients experience nothing.
Q: How many injections are done throughout the scalp?
A: It depends on the area. The doctor will determine this at the time of the treatment.
Q: Are there any cons to having a PRP treatment?
A: There is some inconvenience in that you need to have your blood drawn and there may be some temporary swelling in the treated area. However, Platelet Rich Plasma is extremely safe since we are using your own serum, but it is not successful in growing hair in all cases.
How can we help you at Clinicana?
3% to 10% of the transplanted hair might be reduced by wastage -that is, about 3% to 10% of total transplanted grafts will not come out- after a hair transplant procedure, even with ideal conditions, due to inadequate blood flow. Deficient blood flow causes weakness of repair and increases the possibility of hair loss. This is why the PRP is so important to avoid these side effects.
At our Clinicana Hair Transplant Center in Istanbul, Turkey, we have one session of PRP treatment included in our package and our patients have this session right after the hair implant surgery. Contact us and we will explain you all the details about our treatments. Please, do not hesitate if you have any other question: we are here to help you.