Does PRP hair treatment prevent hair loss?
By Prof. Dr. Soner Tatlidede 2021-08-25

PRP hair treatment, or Platelet-Rich Plasma, is an increasingly used technique to combat hair loss. PRP and hair transplant can also be combined, since it's used after getting hair implants as a technique to strengthen new follicles and stimulate their growth, achieving great results.
Many people who contact our clinic asking about the cost of hair transplant, are also interested in this technique. At Clinicana, a session of PRP treatment is included in the hair transplant price for patients getting hair implants in our clinic; therefore, we want to explain what is this technique about, what are the benefits and results of PRP treatment for hair loss, and if it has side effects.
What is a PRP hair treatment?
Platelet Rich Plasma (PRP) treatment is a bio stimulation technique that uses a series of elements present in patient's own blood to reinvigorate scalp, preventing hair loss and stimulating its growth. Specifically, this technique takes advantage of the great regenerative capacity of platelets: in fact, PRP has been used since long time in medicine for tissue regeneration.
To obtain platelet-rich plasma, a small amount of blood is drawn from the patient, and then it is subsequently subjected to a centrifugation process for several minutes; in this way, it is possible to isolate parts of the blood plasma that are of interest, such as the so-called platelet-rich plasma, which is the one that contains growth factors and that will be used in the procedure.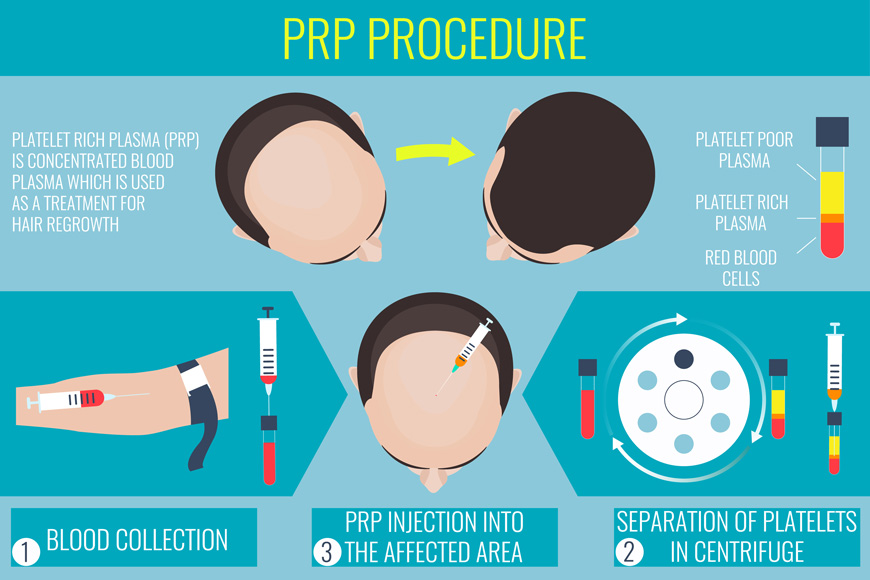 This plasma is the one that will be injected into scalp by micro injections - following the same technique used in hair mesotherapy - in those areas where hair weakening or a loss of density has been observed. It is a completely painless procedure, in which only local anaesthesia is used, although usually it is not even necessary.
What are the benefits of PRP for hair loss?
The main advantage of using PRP for hair growth is that, since it uses components from patient's own blood, there is no risk of allergy, rejection, or disease transmission. The patient will notice no side effects as a result of the treatment: a slight redness in the treated area at most, that will disappear in a short time.
In addition, since it is a minimally invasive technique, patient can return to normal activity after the intervention, which lasts between 30 and 60 minutes. As for when will the results of PRP hair treatment be observed, after just a month hair growth becomes evident; normally, 3 to 4 sessions are carried out per patient - one by month - which can later be reinforced with new microinjections, if needed.
The question is: does PRP technique work? There are many studies that support the results achieved by treatment with Platelet Enriched Plasma; it is a technique that manages to stimulate hair growth and make it stronger, both in men and women and for several types of alopecia (including pattern baldness, alopecia areata, etc.), obtaining good results.

What is the PRP hair treatment success rate?
The use of PRP injections for hair loss gets to activate cell regeneration, stimulating the creation of hyaluronic acid and collagen, and also improving blood flow and, therefore, the arrival of nutrients to follicles. In this way, this technique manages to stop hair loss, and increase hair thickness and quality. Studies indicate that after just 3 sessions, you can gain up to 40% more hair, with a success rate in more than 70% of patients.
Due to its benefits and its effectiveness in stimulating hair growth, it is common for this technique to be applied also after a hair transplant, since it contributes to rooting of new grafted follicles and to stimulate their growth, thus increasing the chances of success in a hair transplant. It must be taken into account that between 3% and 10% of new grafts will not root due to lack of blood supply; so, the use of PRP can really make the difference.
Another use that is often given to this technique is as a method to preserve follicles extracted during hair transplant operation. Since follicles survival during extraction and before implantation is vital, PRP is usually added to the solution where follicles are preserved before being grafted into the recipient area, or even washed directly with a PRP solution. Thus, the success of the operation increases.
Although the PRP technique achieves very good results, sometimes and depending on patient's condition it may be advisable to complement the treatment with the use of Finasteride 1% or minoxidil 5%, in addition to vitamin supplements. However, an expert in medicine should be always consulted before carrying any treatment: after analysing the case, he/she will determine what is the best technique or medication for patient's condition.
It is also important to underline that a PRP hair treatment cannot make hair grow again in those areas where alopecia has already damaged follicles: in these cases, the only solution is a hair transplant. Clinicana is the best hair transplant clinic in Turkey: request your free consultation now, and ask for a free, no obligation estimate for your treatment. There's is still time to recover your hair!!