Can I get a hair transplant if I have hepatitis B?
By Prof. Dr. Soner Tatlidede 2020-05-04

Sometimes, people wishing to get a hair transplant suffer from hepatitis B; actually, it's quite common among people interested in the cost of a hair transplant in Turkey to ask if they can get a hair surgery having the HBV virus, or how will it affect to the procedure or the healing process. In the following lines, we aim to give a detailed answer to all the questions around this illness
Can HBV cause hair loss?
Liver is one of the most important organs of the digestive system. It is responsible for many regulations in our body, so the smallest problem causes big consequences for the whole organism. Hepatitis B is caused by HBV virus and affects the liver functioning, triggering several health problems (chronic hepatitis, cirrhosis, or even cancer) and also many side effects, and one of these can be hair loss.

While it is thought that the effects of hepatitis B on the liver can indirectly impact the health of one's hair, skin, and nails, actually many scientific studies have shown that hair loss can be the result of the interferon monotherapy used in the treatment of hepatitis B virus infection. However, interferon side effects are reversible once the therapy is over.
Who is at risk of contracting this disease?
Hepatitis B comes from a family of viral hepatitis diseases. Unfortunately, it is very easy to get infected with this illness. A person can get infected by HBV virus in many situations:
while being in a place in unsterile conditions
while doing a tattoo with unsterilized instrumental
while having dental or cosmetic procedures in which skin continuity is violated
while collecting or transfusing blood
during a stay in hospital or in medical facilities
while having unprotected sex with unknown people
HBV virus can also be transmitted from mother, if she had hepatitis during pregnancy
there is also a risk to get infected even in a hairdresser
Can I have a hair transplant if I have active or detectable hepatitis B?
As occurs with type C hepatitis, we also do not recommend our patients to undergo a hair transplant operation while they still have an active form of hepatitis B due to the risks that virus poses both for the patient and the medical staff. Therefore, is this is your case, you cannot have a hair transplant.
First of all, this is an unnecessary risk for you: your immune system would be too weak and burdened after the procedure, and therefore the risk of infection would increase; secondly, it is also dangerous for our medical team and other patients. Therefore, in order to maintain the highest safety standards in our clinic, we must refuse to perform the procedure in this case.
That is why it is so important to trust us and to give us your complete medical history: take into account that if the results of blood tests performed upon your arrival in Istanbul confirm the presence of the virus, the procedure will be cancelled, and you would have travelled to Turkey... for nothing. It is not possible for this disease to go unnoticed, because tests are done on each one of our patients, including a specific test for hepatitis B.
Can I have a hair transplant if my hepatitis B is completely healed?
Yes, if you had hepatitis B in the past and you completely healed it, there is no problem to perform the procedure. Having this illness in the past has no negative effect on the hair transplant operation or in the final results of the surgery.
If you are one of these patients, please inform us before arriving to Istanbul. It will help us to organize blood tests and save you from unnecessary stress and waste of time. After arriving to Istanbul, each patient assisted by our driver is conducted to our clinic to perform blood tests, with the aim of examine blood counts and detect infectious diseases. Waiting time for the test results is about 1 hour, so it will not have a significant impact on the length of the planned trip.
To determine the presence or absence of hepatitis B, we perform the HBsAg test; this tests can detect the presence of antigens, which are proteins that are responsible for the immune response against a specific virus, in this case HBV (hepatitis B virus).
If the first test we perform is positive, we will have to perform a second more specific test. This is a necessary step because, as we take care of our medical staff and our patients, we never perform treatments for patients until we make sure that they do not have any infectious diseases, and thus in this case we must be sure that there is not an active form of Hep B in the body blood. This second test to detect Hep B is called ALT> AST, and it checks liver function.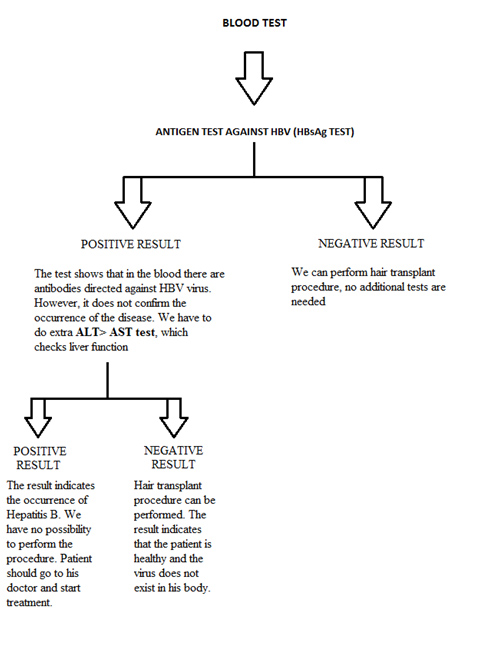 How long should I wait for the results of the second test?
The waiting time for ALT>AST test results lasts about an hour. Therefore, there is no need to stay in Istanbul for a period longer than planned.
What is the cost of performing the additional test?
If the first test is positive and there is need to perform the additional ALT>AST test, the price varies from 40 to 80 Euros. Once the results are clear, it will be possible to continue (or not) with the hair transplant procedure.
Why does first test show the presence of antigens if my hepatitis B is cured?
These results of the first test only show the presence of antigens, not the occurrence of the disease. When someone has a disease, our body produces special proteins - antigens - to protect against it and as immune response; these proteins stay in our body for a very long time, sometimes forever. That's the reason why a patient who had hepatitis B in the past, even after healing, will have these antigens in the blood.
How long should I stay in Istanbul to get a hair transplant with Hep B?
In case you have a cured Hep B, the program for the hair transplant operation will not change a lot, since the results of the test will be ready in less than one hour. Therefore, you can plan your trip to Istanbul as usual, for a total period of 3 days. The procedure will be as follows:
First day of stay: Arrival to Istanbul. Transfer from the airport to the hospital. Hospital registration and blood tests.
Second day: Hair transplant surgery.
Third day: Postoperative visit to the hospital, removal of bandages. After that, time to go back home (if you do not wish to stay a bit more and visit the wonders of Istanbul!).
If you think you are in risk of having a disease, we recommend you to perform a medical examination before planning a trip to Istanbul for a hair transplant. Please remember: if upon your arrival it turns out that you hid from us or did not know about the presence of Hep B, your operation will be cancelled and we will not be responsible of the possible consequences.
So, please provide us with all the necessary information before your hair transplant, in case you have/had Hepatitis B or any other disease: at Clinicana we can give you the best available solution for your situation. Trust us, as thousands of happy customers have already done. Take a look at the reviews on hair transplant in Turkey, and see why we are the best rated clinic. Ask for your free consultation now!